I wrote this review shortly after the film came out in 2016 but didn't have time to post it. I'm referring to the film in an article I'm writing for www.HeadlinePrayer.org, so I'm posting it now.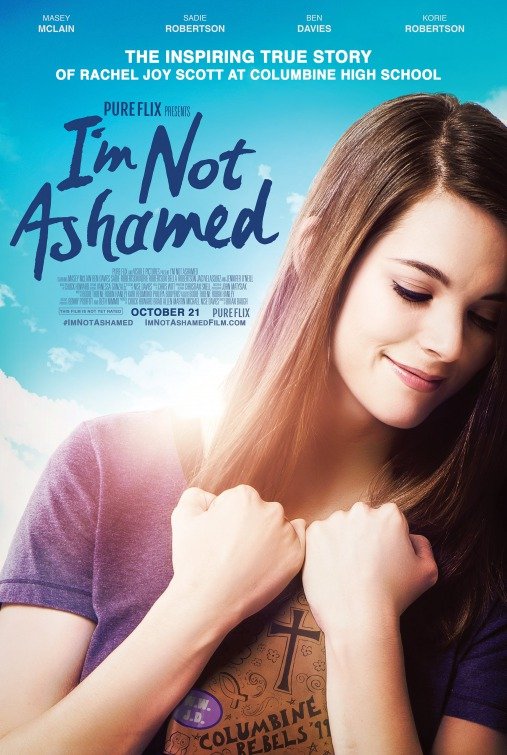 I'm Not Ashamed
tells the story of Rachel Joy Scott and how her life came to an end during the Columbine High School massacre in 1999 when she was asked if she believed in God by one of the shooters and Rachel Joy replied, "You know I do."
In many cases the fact that everyone knows what happened works against the writer. In this case it played to their advantage! I found myself cherishing every moment of Rachel Joy's life, not knowing when it could all come to an end!
Writing a work of fiction based on someone's life is hard... really hard.
I remember house-sitting for the friends who eventually introduced me to my bride, free of all distractions, staring at a blank page and a flashing cursor for days as I contemplated how to turn the
Journal of John Woolman
into
my first feature-length one-man play
.
The four-person writing team with two previous credits between them did a profoundly good job with I'm Not Ashamed.
When you look at someone's life it's very rare that you have natural dramatic tension, an antagonist--or in this case a dyad of evil collaborators, deep, rich subtext and changed lives galore.
I remember being on the set of
Polycarp
when someone on the crew said Hollywood is running scared because Christians will quite literally lay down their lives to tell eternal Truth well, and as costs go down and talent goes up we're making more and more of an impact on the box office.
At the inaugural
Christian Worldview Film Festival
producer/director George Escobar (
The Screenwriters, Alone Yet Not Alone
) said it's only a matter of time before Christian films start doing better than secular ones at the box office because eternal messages reach into our very souls.
I feel like
I'm Not Ashamed
has brought the Christian genre to another level.
I've heard complaints from secular and Christian critiques that stories about Christians aren't interesting because there's no character arc. I faced that with
Beyond the Chariots
because every page I read and everyone I met who remembered Eric Liddell had nothing negative to say about the man. When a life is truly seated in Christ, the gods of this world have no sway. I ended up making the protagonist a young man fighting against Eric Liddell. In
I'm Not Ashamed
we see Rachel Joy's on-again off-again relationship with the Lord. I certainly remember the temptations of attending a secular high school, and I thought the filmmakers did a great job of showing that without titillating.
There's a very powerful moment when Rachel Joy is asked why she won't invite a certain young man to the church's youth group. You see in her whole demeanor that he's become an idol in her life. The nuancing and depths of storytelling that leads up to that scene are profound.
Christians should know:
PG-13 for
*Thematic elements, though the violence is very creatively minimized.
*Teen drinking and smoking.
*Implied premarital sex is implied for one of the characters.
*Brief teen kissing.
For more details check out
Movie Guide's review
.
See the rest of Olympic champion Eric Liddell's
Chariots of Fire
story by booking
Beyond the Chariots
.